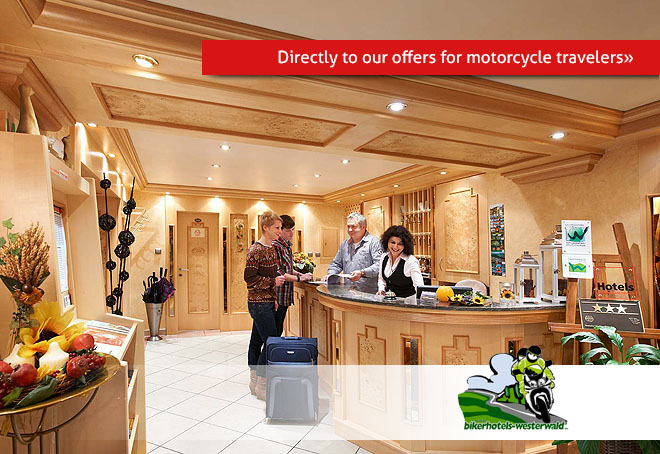 Dear Friends & Guests,
We warmly welcome you to our Hotel & Restaurant Rückert in Nistertal/Westerwald.
Look forward to delicious, freshly prepared dishes from our restaurant kitchen.
Our menu »
17.09.2023: Great Theater at Hotel Restaurant Rückert:
"The Fire Raisers (Biedermann und die Brandstifter)" by Max Frisch.
Full program 2023 Tower Bridge dance hall at Hotel Resturant Rückert
From March to December we have put together a great program of events that guarantees top entertainment.
Your Christmas break in the Hotel restaurant Rückert - Book now!
Rest, reflection, recharge your batteries -
Selected 4- and 5-day arrangements for your christmas break in the Hotel restaurant Rückert »
Sunday breakfast buffet
Breakfast buffet including sparkling wine, warm drinks, orange and multivitamin juice - every Sunday from 10 a.m. to 12.30 p.m. A reservation is necessary. Price per person EUR 19.00.
Please note that we close at 12:30 p.m. on Sundays after the breakfast buffet.
We look forward to you!
Your family Rückert & team
Please note our check-in times from 3 p.m. to 8 p.m.!
Check-in is ONLY possible from 3 p.m. to 8 p.m.
If you do not check in by 8:00 p.m., the reservation will expire and the room will no longer be available.
Parking Instructions
You are welcome to use our free parking lot in front of the red brick house on the right of the hotel.
If you park in front of the hotel entrance on arrival/departure, please make sure that you park your vehicle on the street and not on the sidewalk.
Opening hours wellness area
Pool: Daily (except Sundays) from 8 a.m. to 7.30 p.m.
Sauna (from 4 people on request): Daily (except Sundays) from 3 p.m. to 7.30 p.m
Please note: Smoking is prohibited in the entire hotel
Smoking is prohibited in the entire hotel and is only allowed outside the building or on the balcony. If a fire alarm is triggered by unauthorized smoking or the smoke alarm has been deliberately tampered with, the hotel assumes no liability. The resulting costs of using the fire brigade or other security services are to be paid directly on site.
If guests are found to be smoking in the rooms, a special cleaning fee of € 150.00 will be charged. Furthermore, open fires and the lighting of candles are not permitted in hotel rooms, stairwells, corridors and sanitary areas. We would like to point out that any damage caused by you must be reimbursed to the hotel and invoiced.
Arrive and relax:
Massages & treatments in the physio studio Lena Melchert,
Bad Marienberg
All information can be found in the flyer PDF »
Appointments, booking & billing directly via Physio-Atelier Lena Melchert.
Monday-Friday: 02661-3830
Saturday/Sunday: 0175-2366121
Schlosser application technology relies on hospitality in the Hotel & Restaurant Rückert
Schlosser Application Technology GmbH is the competent and well-established company for solving problems in the recycling and shredding industry and has been one of the leading cutter crown manufacturers for many years.
The company from Gebhardshain applies the same high standard when accommodating guests and fitters and when arranging business meals and catering, relying on our hospitality and culinary delights in our Hotel & Restaurant Rückert in Nistertal.
---